Goods for newborns and infants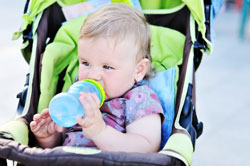 Arrival of a baby is the most precious moment for any family. The first year of life is very special. Children put a lot of efforts and energy to adapt to their environment and develop. Responsible parents take care of their baby using all necessary means. They can't do it without goods for newborns and infants.
Mir Detstva gives manufacturers a platform to demonstrate their high quality goods for babies.
Product sectors
Prams, pushchairs
Baby bouncers, baby carriers and other accessories
Baby walkers, high chairs, baby cots, potties, toilet trainers, safe steps, bibs, etc.
Car seats
Home safety and health items
Nursery furniture, mattresses
Cradles, cots, cot beds, dressers
Breastfeeding accessories, containers, feeding bottles, etc.
Bottle teats, baby soothers and dummies, baby tableware, sanitary products, tooth brushes and teethers, etc.
Newborn bedding, cot bedding sets, quilts and blankets, pillows, baby nests
Radio and video baby monitors, digital scales, electronic thermometers, food and bottle warmers, learning toys
Baby food
Infant care hygiene products: bath products, nappies, baby wipes, baby care accessories
Baby skin care products: creams, lotions, baby powders, make up products for children
Care products for pregnant and breastfeeding women