Banda Umnikov is changing education and direction
11 / 08 / 2022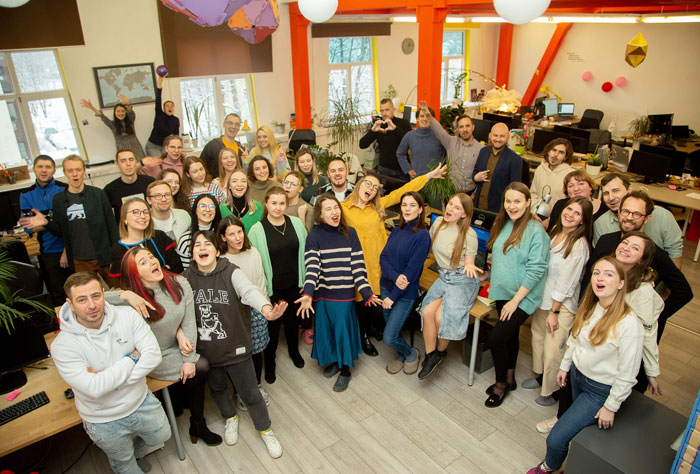 Photo: the Banda Umnikov Publishing house
This year, the Banda Umnikov (which is translated as the Brainy Band) publishers are celebrating their 10th anniversary. Only 10 years! But it seems as if they have always been with us. Every year, clients and visitors to Mir Detstva literally besiege the Banda Umnikov stand, as the best game masters work here, offering new and most exciting board games. Today, the company is embracing new areas of education and is moving steadily towards changing the format and transforming itself into a real "boiling point" of EdTech innovation.
Recently the company has been changing its format of work: it is making the transition from a publishing house to an educational technology studio, developing EdTech and corporate gifts. Sergey Boriskin, Head of Special Projects, spoke in more detail about the new areas of the company's work.
"The Brainy Family was founded in 2012. It is a company based on the international educational technology studio The Brainy Band. For 10 years now, we have been making learning interesting by striving to find common ground with parents all over the world.
"New for this summer is a game called Slovo-potam, which is a pun with the words Slovo, which means a word, and Slonopotam, which is a Russian Heffalump. Reading becomes a game: at night, slovopotams wake up in the bookcase. They bounce from book to book, making up different games, but sometimes while having fun they accidentally mix up the letters in the words. Children must race to put the letters into words, so they'll love to read and learn to do so quickly and without stuttering. The game nurtures a child's natural curiosity and competitive spirit. To win, a child has to form as many words as possible from the given letters. Different difficulty levels make it possible to play even if your child doesn't know all the letters.
"This and our other new products will definitely be shown at Mir Detstva. We try to pay a lot of attention to trade shows. They allow us not just to present a product, but also to explain how it works and show the mechanics of the game. Our stand invariably generates a stir: we are the ones who play with visitors, sometimes for several hours at a time. As a rule, this ends with a supply contract, and the event itself pays for itself the same day with retail sales right from the stand.
54% of the solvent Russian audience are parents with children between the ages of 3 and 16. This is our target audience. We know how to find a common language with them and help brands make friends with customers through their children, the most valuable thing any person has. This is how we take the relationship between the brand and the audience to the next level.
Together with our partners, we create innovative educational products and develop effective training methods for developing future skills. We have already made three training courses and a functional literacy game for Yandex.Textbook and three video courses for Megafon, a training game for SberPortal.
The augmented reality learning game for SberPortal from Sber is one of the most outstanding ones among these projects. The Sber team has launched a new device, which is the SberPortal smart display with a large screen, a voice interface and an ultra-sensitive camera. The idea emerged to use these features to create an augmented reality application for children with educational gaming features. Sber approached us with this idea.
We've made Enchanted, a puzzle game that combines the benefits of traditional board games with the latest digital features. If you stack the animal shapes correctly on the table, the device recognises them on its own and they come to life in a magical forest on the screen. It looks like real magic!
The Banda Umnikov team also had a very interesting experience with the development of the online game I'm Going Towards My Aim for Yandex.
The background to this collaboration is this: the international PISA study of the quality of education since 2000 shows that Russian children have become less able to apply school knowledge to solve practical problems. In other words, pupils are finding it increasingly difficult to answer the question, "How will I use this in my life? School knowledge becomes crammed up rote definitions and formulas which are forgotten immediately after exams.
The ability to meaningfully understand, analyse, seek and apply information is called functional literacy. It is one of the most important competences of the future.
The Yandex.Textbook team took on the massive and complex challenge of tackling this problem in Russian education through online tools. The programme of action included training educators and creating methodological tools for working with children.
To launch the course, we needed a visual educational product that would help to engage students and teachers with the new topic and show its importance through concrete examples. This was our joint development of the online game I'm Going Towards My Aim.
We look forward to seeing all our customers and game lovers at the Banda Umnikov's stand at Mir Detstva in September! We look forward to direct networking with consumers, which is always energising and gives a sense of the importance of what the company does.
---