NIKASTYLE: a reliable winter companion
NIKASTYLE, a Russian manufacturing company, which has celebrated its 15th anniversary this year, offers a wide selection of outerwear and accessories for children in the winter 2020 season.
The product range of the brand presents overalls and coat and trousers sets, parkas and coats, jackets, pants and semi-overalls characterised by stylish colors and bright prints, fashionable design, and quality performance. NIKASTYLE uses high-tech windproof fabrics with water-repellent impregnation, as well as reliable accessories in their production.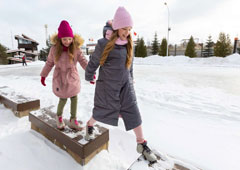 Products made of membrane fabric protect the lower layers of clothing from getting wet. The structure of the material allows the skin to breathe and expel moisture. In addition, the membrane tissue has a high resistance. It is hypo allergic and has an increased durability.
FIBERLite® filler has high heat-preserving characteristics, it keeps its volume over a long time, it is effective at low temperatures, it does not absorb odors, it quickly dries, it is lightweight, and it is safe for health.
On September 24-27, 2019, the NIKASTYLE brand will take part in the CJF – Child and Junior Fashion 2019 exhibition.
Visitors are welcome to Stand 72S80, Pavilion No.7.