Premont Brings Comfort and Emotion to the Children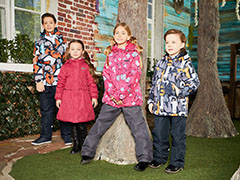 In February, a demi-season collection of Premont Spring-Autumn 2020 children's outerwear came into the market. The collection presented overalls, suits, coats, parks, jackets, raincoats, and also new items – raincoats and jacket-vests.
High-tech materials (such as membrane fabric and modern insulation) and high-quality fittings are used in these products. Well-thought-out functional details are combined with authors branded prints and design. The traditional Canadian quality guarantees high quality tailoring and quality control at every stage of production.
The designers of the collection focused on comfort and emotions: "We want to give our children a childhood without worries with vivid memories of outdoor games with no limits."