Brand Building Master Class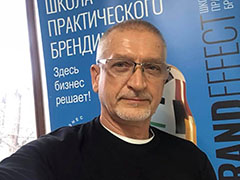 On February 26, an interactive Master Class of Sergey Lelikov, a brand consultant, the founder of BrandEffect International School of Practical Branding "How to create an effective children's brand in the field of children's fashion" will be held as part of the Expo-Academy.
14:20–17:20
Pavilion 1, Upper level, between Entrances A and B
The master class will be useful for everyone who wants to learn how to build a brand and significantly save budgets and time; to learn how and why the brand affects business growth; to learn about the role of the business owner in the brand development process.
The master class program is tailored for 3 hours, during which the author will present the basic concepts of why there's need for brand, why the manufacturing thinking style makes it difficult to speak the customer's language and inhibits business growth; he'll also tell about the physics and metaphysics of the brand. The participants will analyze some correctly built companies' and product brands, and they will make an analysis of "brand disruptions" using examples of well-known Russian companies of the federal level.
This master class will help you combine the accumulated knowledge about marketing and the brand. It will help you thoroughly understand the connection between the brand and your business growth; you will get a roadmap: from the first step in developing of a brand to a comprehensive understanding of how to build a brand for your company.
Sergey Lelikov: Coach and Brand Consultant
Entrepreneur, brand consultant, founder of the BrandEffect International School of Practical Branding, co-founder of High School of Branding (Moscow Higher School of Branding); Editor-in-chief of Brand Management magazine.
30 years in the field of design, marketing, creative work, management, applied psychology and branding. The author of the RAINBOW Brand Effect © brand design technique.