Olga Teslya: Elodie Brand is Always in High Fashion Trend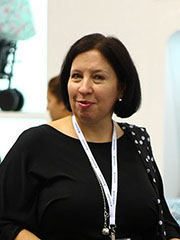 For the first time at the CJF Exhibition, Olant Company, a well-known distributor of products for expectant mothers and babies, presented Elodie, a popular Swedish brand. Its original design was appreciated by the visitors. Olga Teslya, the Founder and CEO of the Company, told us about the advantages of the brand and the main ways to promote products for mothers and babies.
– We are presented at the CJF-Child and Junior Fashion Exhibition for the first time, and this is a remarkable event for us. We used to present our brands at Mir Detstva Exhibition, focusing on customers who are mainly engaged in products for baby care and feeding of newborns, strollers, and accessories. This spring, we decided to enter an exhibition that specializes in children's fashion, and to present Elodie, a Swedish brand. This is a young brand founded in 2006 by Linda Satterstorm, a famous designer. She has been a designer and inspirer of children's fashion at H&M for many years. After she had gone on maternity leave and had given birth to her daughter Elodie, she got the idea of this brand; such things very often happen in our business.
Linda, as a Swedish mother, was surprised by the huge number of accessories on the market for newborns, among which there was nothing that, at least approximately corresponded to the Swedish style, to the idea of the Swedish mothers about comfort and style. We know that all over the world, the Swedish style is valued for its restraint and strict beauty. Linda's task was to immerse mothers in the world of fashion, but without unnecessary "childishness" and avoiding cuteness overload, so you won't see typical children's prints in this product. The brand's internal slogan is "No teddy-bears and ice cream pictures!". Twice a year, Linda creates collections that are always in the high fashion trend. At the same time, the brand's products are in the optimal price range. This is a great solution that, on the one hand, gives moms the opportunity to be stylish, and on the other hand, not to spend huge budgets usually required by high fashion.
– What does include the brand assortment presented at the Exhibition?
This time we have brought only accessories – hats, mittens, envelopes for prams, overalls for car seats, bibs, muslin diapers, accessories for a children's room, bedding.
– Why did you decide to come out with this brand?
– First of all, we see a significant demand of the stores for it. Secondly, after monitoring children's clothing stores in 2019, we found out that most of them are focused on selling clothes, but not children's accessories. And we realized that we need to make a broader offer to this category of entrepreneurs who, for a number of reasons, are simply not familiar with these products.
The customers in Russia already know the Elodie brand well. In 2019, Elodie was re-branded to a higher style. The brand has moved towards premium, but the price offer has remained at the same level, and this is very important. The mothers were given the opportunity to feel more fashionable, more stylish.
– What brand promotion tools do you use?
– As you know, today social media is one of the most effective tools for working with the audience of moms. We have been working with the Elodie brand for several years, and we see how effectively it is promoted on these platforms. The brand is among the most promoted in Instagram, and today Instagram is the main tool of a modern mother. #Elodiedetails requests are among the most popular. We did not have to further promote it, because this product is known by millions of mothers in the world.
As for promotion in the B2B format and communication with partners, trade shows play a big role here. This is where we can meet our regular customers, as well as meet new ones. We were glad to meet our partners not only from Moscow and St. Petersburg, but also from Makhachkala, Vladikavkaz, and Rostov at CJF- Child and junior Fashion 2020. Spring. We hope that cooperation with the Elodie brand will be productive for everyone.