Oldos Takes a Step towards Sustainable Development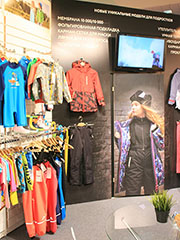 Oldos, a Russian manufacturer of fabrics, accessories, and clothing for children, has announced the launch of an eco-friendly technology that allows the use of materials made of recycled plastic bottle caps in the production of clothing.
The company pays great attention to modern technologies. In particular, new unique models of outerwear for teenagers were presented at the CJF – Child and Junior Fashion Exhibition. These products are made of modern membrane fabrics with water and dirt-repellent Teflon coating and Hollofan Pro insulation, which retains the product's shape, moreover, its thermal protection properties are as close as possible to the natural down.
Every year, Oldos Company increases its turnover and expands its product range. To support the growth, a year ago, the manufacturer launched the second stage of the warehouse complex in the Moscow region, and now the company is already planning and coordinating the construction of the third stage. In parallel with this process, in the beginning of 2020, another own sewing production facility of Oldos, an experimental sewing and production unit, was opened on the basis and in the territory of the second stage of the complex. Its capacity will allow to manufacture limited batches of knitted collections on its own production base. The new workshop is equipped with the most advanced machinery, sewing, cutting, embroidery and thermal transfer equipment, and software.