Rock'n'Mouse: Young Debutants from Latvia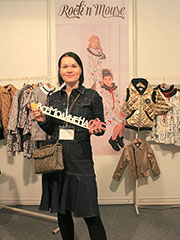 Rock'n'mouse, a small brand of children's clothing from Latvia was a bright newcomer to the latest season of the CJF Exhibition, and it has all the chances to grow into a large company.
The brand, founded in 2016, produces stylish and comfortable urban children's clothing for girls and boys – from birth to 10 years. Rock'n'Mouse products are produced at its own factory in Latvia, the company uses high-quality fabrics and ethical production methods.
Rock'n'mouse is distinguished from other brands by original prints made by the local artists, which are updated every season. Another feature of the brand is the ability to create family looks – for this purpose, the company produces some models in adult sizes.