For the Little Ones – the Best from Three bears®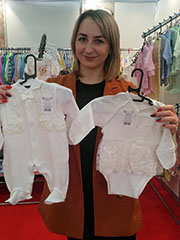 Three Bears®, a company from Bryansk, a regular participant of the Exhibition, presented several collections for newborns at once, including clothes for babies for special occasions such as "Lace Chic", "Little Lady", and "My Angel".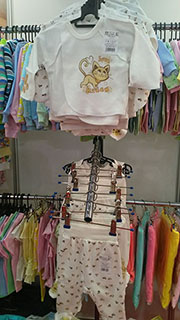 The Three Bears brand produces clothing for newborns from 0 to 2 years old. They also offer a separate collection for low weight babies. At the spring Exhibition, the attention of the visitors was attracted by the following collections: "Lace chic", "Little lady", "Happy animals", "Tenderness", and "My angel". Sliders, vests, blouses and overalls for the little ones, underwear-panties and T-shirts, pajamas and bathrobes – this is not a complete list of products included in the product range of the brand.
The manufacturer considers safety and quality control of products the main advantage of the brand. The ornaments and prints are applied using a textile printer with water-based paints. Such clothes can withstand 40 washes at temperatures up to 40 degrees Celsius. They do not crack when worn and washed. The clothing can also be ironed. All products are assembled with a four-thread over-lock, that is, the fourth additional thread secures the line, which increases the strength of the product when worn and repeatedly washed.