Practical School Uniform by GOODWIN®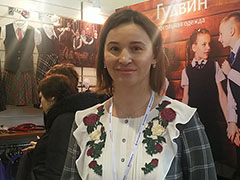 GOODWIN brand from Altai Krai presented its products at the CJF Exhibition for the first time. The main direction of the company's activities is manufacturing and sales of school clothes for boys and girls in GOODWIN brand stores. Olga Kalanakova, the Head of the Enterprise, spoke about the advantages of her products.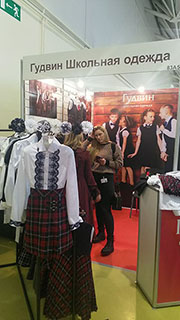 – We are managing wholesale sales of uniforms via schools. This provides prompt feedback to both parents and children. Already at the time of trying on the samples of the clothes, we get reviews that help us make our uniforms more convenient, more comfortable. This is especially helpful when working with children of an irregular constitution – skinny, full, too tall or, vice versa, too small. It is important for us that every student can wear high-quality, stylish, comfortable, and practical clothes at an affordable price. We work with partners in Altai Krai and other regions of Russia: Novokuznetsk, Kemerovo, Novosibirsk, Yakutia, Moscow, Yekaterinburg, Krasnoyarsk, Ulan-Ude, etc.
Our models of school uniforms are produced in collections and make a perfect match with each other. School clothes of our company are sewn from viscose, cotton, and mixed fabrics.
We participated in the Exhibition for the first time hoping to find partners from the central and Western regions. We tried to look more attractive for the customers, so we presented one of our most attractive collections made of bright checkerboard cloth. Representatives of various regions – almost all regions of Russia, Belarus, and Latvia – visited our stand. We hope that in the new season we will significantly expand the range of our partners.