Footwear by Lel Factory to be Available in Westfalika Retail Chain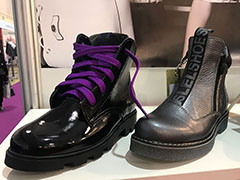 The collections of children's shoes made by Lel Factory, which debuted at the CJF Exhibition, will replenish the product assortment of Westfalika stores. Previously, the company used to sell the brand's products only in Rossita and Peshekhod stores.
The pilot batch of demi-season, all-weather, and summer shoes from Lel Factory will initially be presented in more than 100 Westfalika and Rossita stores; by the end of the year it is planned to increase the supply and bring the number of stores up to 500.
– The product range of children's footwear is available now in limited quantities in Rossita and Peshekhod retail chains, so we decided to add it up with modern and high-quality models made of genuine leather, as well as to introduce collections of children's shoes to the stores of our main Westfalika brand, – said Elena Khvorova, Procurement and Sales Department Head of Obuv Rossii GC. – Lel Factory is a Russian manufacturer producing shoes for children and juniors from genuine leather for more than 20 years, so we can trust its long-time experience. In the future, we plan to expand the range of children's products adding it up with outerwear and middle-layer clothing.
Lel Shoe Factory was founded in 1997 and is among the top 5 largest manufacturers of Russia in the segments of children's shoes and special-purpose shoes.