Radost Moya (My Joy): Excellent Quality at Affordable Price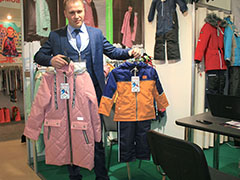 Radost Moya RM is a Russian company engaged in production and wholesale of outerwear for children. The company's stand presented beautiful, fashionable, high-quality products for children and schoolchildren at affordable prices. In addition to outerwear, the product range presents hats and accessories.
– We have been on the market for more than 15 years, – the company employees said, – and this is entirely due to the design of our technologists. Quality membrane materials, branded fittings, logos, and modern insulation made of soft microfiber are used in production. We also order our own exclusive prints. We offer a full size range of the outerwear: from 0 to 15 years. All this together makes our products recognizable and popular. We work mainly with wholesale companies throughout Russia: from Kaliningrad to Vladivostok.
This is not our first year at the Exhibition; we have been participating for about 5 years, gathering customers, and getting them interested by our quality and price. Our pricing policy is very attractive; the average price of our outerwear is 1000 rubles lower than the average market price. This is due to production optimization, we are a small company, a family business, we do not need a large team. We develop our own design, technologies, and patterns. This spring we did our best to show the sales hits of the current season, as well as new products for winter 2020-2021.