Svetlanka-Fashion: Classic School Uniform is Always Trendy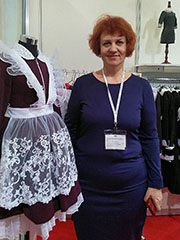 Svetlanka-Fashion, a manufacturer of children's clothing from Kyrgyzstan, has been participating in the Exhibition for several years in a row. The Company specializes in manufacturing of elegant and casual dresses for girls from one to 14 years old and school uniforms. At the spring Exhibition Svetlanka-Fashion presented more than 50 models of classic school dresses.
Svetlana Marshanina, Director of the Company, told about the features of her products:
– This spring we brought school uniforms in 5 colors – from black to blue, all sizes from 30 to 40. We produce classic collections with lace collars and cuffs. They're all detachable, with buttons. In addition, we presented several models of elegant white aprons for school holidays. It is nice that they enjoyed great attention at the exhibition.
Dresses have always been our main focus. We sew not only school uniforms, but also elegant, ballroom and casual dresses. This is our priority. For each season, we are ready to offer new collections of school uniforms and elegant casual clothes for girls in a large assortment with a wide size range. We also offer a small line-up for boys: suits, trousers, vests. We use only natural fabrics that are certified.
Our factory is located in Bishkek, Kyrgyzstan, we have been working for 20 years, and most of our partners are from Russia. And with each Exhibition, there are more of them.