Olga Bako: Simbat will present smart books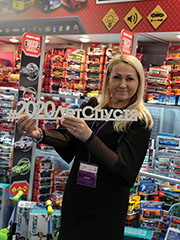 Simbat, a Russian manufacturer of smart toys since 1995, is preparing to present a new line-up of educational books at the autumn exhibition. Umka® is a brand of children's educational toys, including unique and most popular ones. It is among more than 20 of the company's own brands. Olga Bako, Commercial Director of Simbat Toys, spoke about the advantages and innovations of the brand.
– The Umka Publishing House ranks third in Russia in the production of new products. We make about 130 new product items necessary and useful for children per quarter. This year, a completely unique book was released – our encyclopedias. We are the only ones who currently produce books equipped with buttons with sound. These books have up to thirty-three buttons with chips containing a large amount of information. Push one button and you will hear a song, another button plays several songs at once, the third button plays the entire alphabet, all 33 letters. All songs that are recorded are copyright from popular cartoons. They are licensed. We present a great number of books with songs and sound, because we have a very large license portfolio.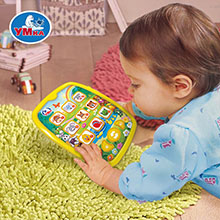 – How popular are children's books now?
– It is one of the most popular categories! The sales are demonstrating up to 60 percent growth, at least in our company's business. We present this category on the shelves in a slightly different format, not like in bookstores – edgewise, in retail chains we display the product facing front (that is, frontally, facing customers), thereby stimulating spontaneous purchase of the book-toys. After all, there are a lot of game elements in our books: voice acting, tactile elements, panorama books, educational books, and our target customers are children from 0 to 6 years old.
We will present a wide range of educational books – encyclopedias, primers, educational ABC books, math books presenting new author's teaching techniques – at Mir Detstva in autumn. Modern children need harmonious development so that in the future they can become successful people. That is why we are constantly looking for new interesting authors, speech therapists, psychologists who advise us on the production of our books.