Superfit has updated its corporate style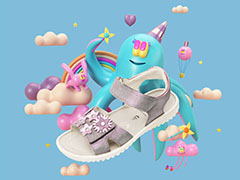 Superfit, a children's footwear brand, has announced a global restyling: the changes have affected the logo, slogan, and visual communication, according to KidsOboz. The decision to update the corporate identity was made due to an active development of the brand in new geographical markets and to the desire to take top positions in other countries of the world.
In addition to the logo, the brand slogan was also changed. The new official slogan sounds as "Children love. Doctors recommend". The slogan is addressing primarily the parents. It draws their attention to the fact that the brand's footwear is recommended by specialists in the development of children's feet, and it has been designed with a direct participation of orthopedists and pediatricians. What is interesting, the slogan is confirmed by numerous studies. For example, in one of those, 98% of doctors who tested Superfit gave the highest rating to the brand's shoes. In addition, the brand is very popular among children. It really brings them joy, as evidenced by the numerous polls regularly conducted by the company.
Besides the logo and slogan, big changes occurred in the visual communication of the brand. The images of children taken against the background of nature, which addressed the parents to a greater extent, were replaced by illustrations with bright plain backgrounds and toy characters, appealling to children as well. Thus, the brand communications are now focused on two main target audiences: parents for whom the brand is recommended by doctors, and children who are called by funny characters to visit the wonderful world of games and fantasies.