Kotovsk Tumble Dolls go to Vietnam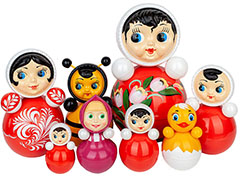 If the brand is strong, no virus can destroy it! Kotovsk Tumble Dolls are a symbol of the city and a well-known brand not only in Russia but also far beyond its borders. According to the Russian Export Center (REC), despite the coronavirus, the company has signed an export contract worth 100 million rubles with Vietnamese "AU Vietnam Mee Import Export Trading Company Limited".
The city of Kotovsk, where the tumble dolls are produced, belongs to the category of mono-cities. Kotovsk tumble dolls factory ("Kotovskie nevalyashki") has been manufacturing toys since 2006. The company's products are available at almost all retail shops of children's goods in Russia and the EEU (Eurasian Economic Union) countries. Now the Company has expanded its export geography, and soon a large shipment of dolls will go to Vietnam.
Dmitry Zavidov, General Director of "Kotovskie Nevalyashki" company, noted that this was the first foreign contract with such a long-distance export route for the company. At the same time, he added that, apparently, under the conditions of the international crisis, the demand for "the dolls with an unbreakable spirit" from Russia has increased.
"The sales volume is going to be quite large; this will require additional production capacity utilization. In the context of declining consumer demand in Russia, reorientation to foreign markets will allow the company to diversify its revenues", he believes.