LifeStyle makes life in isolation more fun!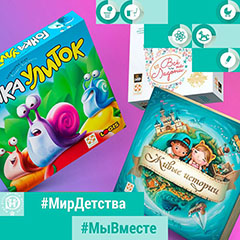 The LifeStyle Publishing House, producing hundreds of table games for children and adults, is running smoothly during this difficult period and continues to release new items.
Over the past month, table games have become a magic wand. With their help, you can entertain children, and have fun with your family. Here's what the company said about its new products:
– Table games are not only exciting but also useful. These games develop logical and strategic thinking, imagination, and reaction speed. Lifestyle, our publishing house, continues to delight the public with cool new products: "Living Stories", "Alice's Garden", "Sea Lords", "Quest Master 6". Two great games have just been released – "Snail Race" and "Everything in the Palm".
"Snail race" is an exciting competition for kids with a colorful design and wooden figures. "Everything in the palm" is a tactile cooperative game based on the principle of "broken telephone", where you need to guess what character has been drawn by another player with a finger on your palm.
Besides, the publishing house has prepared several mini-versions of the famous table games. All you need is a printer, colored pencils, and scissors. These are rather mini-versions based on the famous table games; for example, there have been created two cool puzzles (more like teasers) based on the game "Patchwork Kingdom". And based on the game "Dobble" – there's a list of fun tasks for children with Dobble, a cute character. You can buy games on many online platforms: http://lifestyleltd.ru/buy/