Westfalika shoe shops sold 100 000 toys in 5 month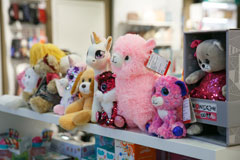 Obuv Rossii Group of Companies, which manages the retail chains of shoe stores Westfalika, Peshekhod, Rossita, Emilia Estra, and Lisette, announced the sales results of 100 thousand children's toys in Westfalika stores. The start of their sales took place in December 2019.
Westfalika shoe shops sold 100 000 toys in 5 months
The product range of toys has been constantly expanding; currently, the group's stores offer more than 800 SKUs — educational toys, table games, dolls, sets of children's cosmetics, radio-controlled cars, constructors, children's scooters, etc. The company cooperates with more than 20 major suppliers, including Gulliver & Co, Simbat, Alisa, Maxi Toys, ORANGE Company, Dream Makers, TNG, Bauer, Grat West, Mir Derevyannyh Igrushek (The World of Wooden Toys), Timbergroup, Premier Igrushka, Mosaika-Synthesis, and others. In the future, the company plans to expand its assortment of toys not only by Russian but also by famous world brands.
"The majority of the customers of our stores are family women who find it convenient to buy goods for the whole family, including toys, in one place," – comments Vyacheslav Ustinov, Children's Goods Division Manager. — Our toys are designed for children of all ages — from babies to teenagers. The company expands its product range and introduces new product groups of seasonal or constant demand. For example, on the eve of summer, we offered our customers soap bubbles and children's scooters, in the winter we plan to focus on game sets, products for creativity and development, and winter leisure."
In December 2019, Obuv Rossii launched an online platform "We Sell" for cooperating with suppliers and began to transform the stores in the marketplace. The project is part of the company's strategy to build a modern retail format and integrate into the multi-service and omnichannel retail space. Currently, the group's retail outlets are mini department stores offering a wide range of products. According to the results of the first quarter, the share of non-shoe products in the group's retail revenue reached 43.5%, the plan for 2020 is to increase this share to at least 50%. At the moment, the number of suppliers of the "We Sell" platform exceeds 400 companies.