Alena Akhmadullina and Happy Baby have designed a children's collection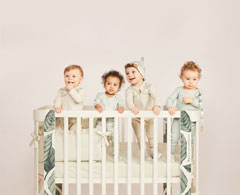 Russian brands Alena Akhmadullina and Happy Baby presented a joint collection of children's clothing and interior items. For Alena Akhmadullina, this is the first experience of working in the children's segment, and for one of the most famous Russian children's brands — the first experience of collaboration.
Alena Akhmadullina and Happy Baby have designed a children's collection
The collection presents clothes and diapers for children from 1 to 3 months, furniture, goods for feeding and care, and toys.
The fairy tale comes to life in Alena Akhmadullina's designer prints applied to the Happy Baby brand's iconic products. Touching fox and hare, a terrible but kind lion have settled on teepees and children's chairs; unprecedented plants intertwine with tree branches on clothes, diapers, blankets, bassinets, cots, and strollers.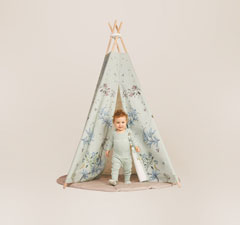 The prints were inspired by illustrations from old books of fairy tales, while the graphics themselves are very modern and make the collection suitable for the nursery made in almost any style. The color range of the collection is built on halftones and delicate transitions: pastel-gray, olive, sage, light-mint, sky blue and caramel shades.
One of the main ideas of the collaboration is to bring an affordable fairy tale to the home of every family because the cost of designer items from the joint collection is almost the same as the main line-up of Happy Baby. "The basics of aesthetic taste are formed in a child early in childhood, so it is important to surround children with beautiful things from an early age. And the fairy tale, which can be created in the nursery with the help of items from our collection, will forever remain with the baby as one of the warmest and dearest memories," – Alena Akhmadullina comments.